At the end of 2008, during the Great Recession, Patrick Zalupski saw an opportunity to launch a home building company in Jacksonville, Florida. Twelve years later and in the midst of the COVID-19 pandemic, Dream Finders Homes, which focuses on entry-level and first-time move-up buyers, is on track to do 3,000 closings in seven states and bring in just over $1 billion in revenue. We talked to him about how he got started and what his game plan is going forward.
BUILDER: What inspired you to start the company?
Zalupski: After graduating in 2003 with a degree in finance, I worked at FedEx corporate headquarters for 18 months. I was quick to realize that it wasn't going to provide the opportunity that I wanted. I ended up moving to Jacksonville and helping my mom, who is a Realtor. I learned how she priced homes and what buyers were looking for. Her husband was buying foreclosures and rehabbing homes, and gutting them. So I learned how to do all that, the tile and the drywall and the siding—almost every aspect other than structural framing. It was a really good learning experience. I bought a foreclosure in 2005 and renovated it, and got into new construction the following year. I was working on a nine-unit condo project during the recession. My epiphany was that condos are the first to go and the last to come back, so I should have been doing single-family detached.
Running up to the recession, you couldn't find a way into the market because the national builders were buying up 500 lots at a time. We saw an opportunity to finally get in and at attractive prices because the market had corrected significantly. We were buying homesites for $24,000 that had been selling for $80,000 two years before, so that was a real value proposition. We thought there were buyers that had been passed up by the rapid price appreciation—that was our target market.
BUILDER: How did you finance the start of the company?
Zalupski: I took out a $200,000 loan in 2008 from the Clay County Housing Finance Authority, which has the mission of providing affordable housing. I had a partner, who was the general contractor for the company. We were able to build three homes after I convinced the developer to let us pay him for the homesites after we sold the homes. All buyers had to meet the affordable housing income thresholds, which provided some restrictions to maneuver. But the good news was the buyers at the lower end were about the only buyers in the market. We built under those restrictions until we were able to get a traditional bank facility in 2011. We went from 27 closings in 2009 to 261 closings in 2012, and I think my partner got stressed out about it. I bought out my partner's half of the company in 2013.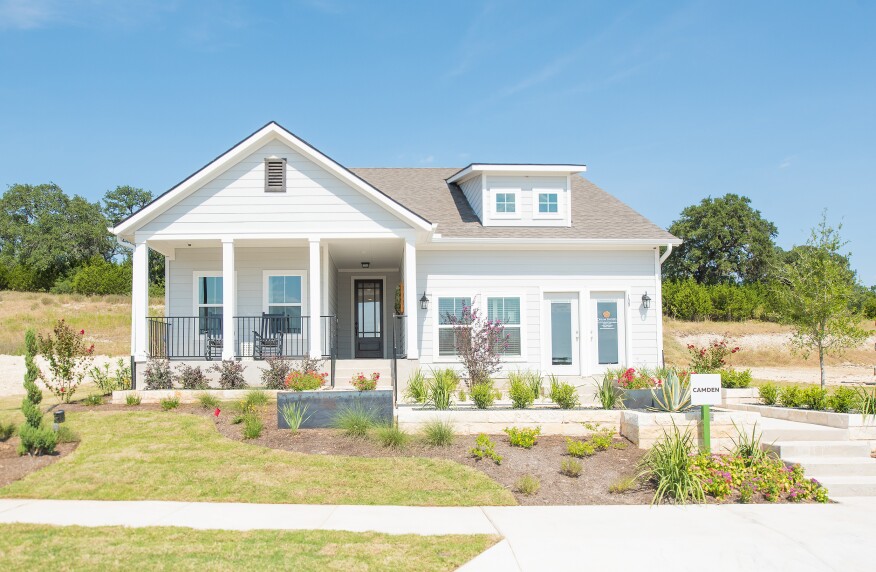 BUILDER: How do you differentiate yourself from the rest of the market?
Zalupski: We always try to give more bells and whistles than the competition for the same or less price. 'More features for less money' is still the slogan we use today. We were putting in granite countertops and stainless appliances, windows and insulation for greater energy efficiency, architectural roof shingles, and so forth, before most production builders were using them as standard features. It's finding that delicate balance of price and quality.
During COVID, we're working on making it easier to buy a home online. We're rolling out a mobile app and a website with interactive floor plans. Prices of land are going up, so we're reinventing the price point to maintain affordability by offering nice wood-look vinyl floor and laminate options. This way buyers can get into the home and upgrade what they really want, but they're not forced to have a wood-plank tile or Silestone quartz countertop.
BUILDER: You tout the ability to customize the structure of a home, which is unusual for entry-level production homes. How are you able to do that?
Zalupski: When you start a company in the depths of a recession, you have to do whatever it takes to be successful. So if a buyer came and said, 'I found this online,' or 'I want to use this sink from Home Depot,' we were going to do it. It's just a core value of the company. We have a very small custom home division. But if someone comes into our production communities, they can literally get a price request for a custom feature from our purchasing team. We make them put up nonrefundable money, around $300, to make sure it's something they really want to do. About 5% of our customers do this. And once we've done something the first time, it's easy to make it a standard option.
BUILDER: How do you decide to enter other markets?
Zalupski: It's all based on opportunity. We have relationships in those markets, and developers come to us. They know the company and the product, and give us favorable terms. That's how we started in Savannah, Georgia, our first market outside of Florida, in 2013. The developers are typically working with a lot of builders, so you don't have to commit to the whole project. The only risk is building a couple of homes. If it doesn't work out, you can sell them and make a few bucks or lose a few bucks, but your company isn't going under because of that. And the upside is that you're building in a community that has 3,000 homesites.
It's hard to grow the business organically. We've done a pretty decent job of it, getting into seven markets ourselves. Last year, we did our first acquisition, Village Park Homes in Hilton Head, South Carolina. We're about to acquire a builder in North Carolina that will add over 1,000 homes a year in five cities, and I expect we'll do more of these down the road.
So many builders don't want to sell to the large public builders for a variety of reasons. We offer family-run builders a fair valuation and the opportunity to stay on if they should choose. We've always retained the name of the builder to solidify the legacy and brand name that has been built.
BUILDER: Who is your role model?
Zalupski: We think NVR out of Reston, Virginia, is the gold standard of a home building company. We don't own any land on our balance sheet, just like them. We run on thinner margins because we're buying land just in time. But our return on equity far exceeds all of our competition, including NVR. We have a great land pipeline. With our new acquisition, we will control close to 20,000 homesites. The big guys like KB Home made it through the recession, but not without a lot of pain and suffering and financial carnage. So we want to stay nimble and flexible to maneuver any situation better.
BUILDER: Has business changed since the coronavirus pandemic?
Zalupski: We were down in April by 36%, but in May we were up 70%, so that was good. We've had four solid sales months in a row, but you know I'd be lying if I told you I knew what was going to happen in September or October. We have a lot of options to slow down the rate of growth and cut overhead if we need to.
At the office, we have cleaners come through twice a day and wipe down high-touch surfaces, and we fog the building every Sunday. We have all of our sales agents and superintendents wear masks if they're meeting with anyone face-to-face. If two guys are framing a house on a roof, they may not be wearing masks, but once the drywall is up and there are windows, they are required to wear a mask while inside the house.
Lumber prices are at historically high levels, and appliances have been challenging because of factory shutdowns. So there will be some gaps that will have to be worked through. We've been able to stay on track so far, but it's going to be a challenge.